English version below / Vai alla versione italiana
I have to admit I was quite puzzled the first time I heard about EGMO. How come there was a maths competition only for girls? After looking into it, though, I realised that – all things considered – this competition exists for a reason. The numbers speak for themselves: the proportion of girls participating in Mathematical Olympiads is indisputably low. That is why EGMO was born, to increase girls' participation in the IMO by encouraging them with a competition that is dedicated to them.
Taking part in EGMO, however, does not just consist training for potential future "mixed" competitions: it's also – and perhaps most of all – an occasion to get out there and meet talented girls from all over the world, in a new and inspiring environment where being a girl that is passionate about mathematics is not something peculiar, but the norm.
But, of course, mathematics is not the only key player at EGMO: of the seven days of the event, only two are taken up by the competition proper, which leaves a lot of time for all sorts of activities! In my case, taking part in EGMO meant spending memorable moments in the company of both fellow Italians and new friends from abroad: performing karaoke and introducing an international crowd to the Italian band "Modà", peeling carrots outside with special local tools, finding out that the word "Apfelkerngehäuse" (apple core) is on the list of Zürich's most used words, even watching girls from all over the world dance wildly to the strains of Italian hits like "Tutto molto interessante".
Indeed, being an EGMO contestant is not just a way to grow mathematically, to receive recognition for one's effort and to be in a stimulating environment; it is also an opportunity to befriend other girls with a shared passion for mathematics, and have a lot of fun. All of this makes EGMO an all-round experience that you'll carry with you forever!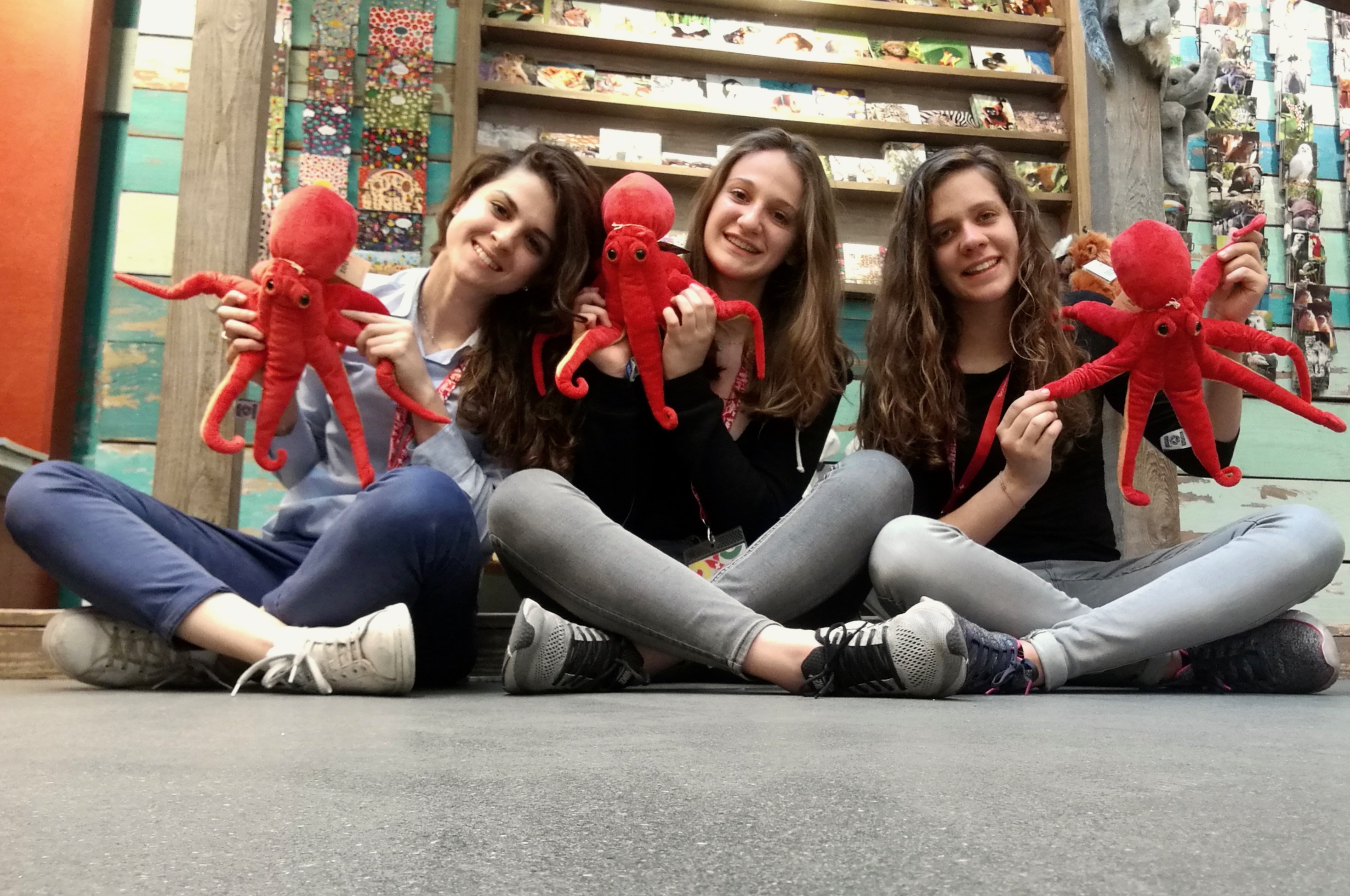 Francesca, Maria Chiara and Linda at EGMO 2017.
---

Versione italiana a seguire / Back to English
Ammetto di essere rimasta piuttosto perplessa la prima volta che ho sentito parlare delle EGMO. Com'era che esisteva una competizione di Matematica per sole ragazze?
Informandomi, però, mi sono poi accorta che, effettivamente, un motivo di esistenza per questa competizione c'era. I numeri parlano da sé: purtroppo, la percentuale di ragazze concorrenti alle Olimpiadi di Matematica è indiscutibilmente bassa. Le EGMO sono nate proprio per questo, ovvero con l'obiettivo di aumentare la partecipazione delle ragazze alle Olimpiadi, incoraggiandole con questa gara nata su misura per loro.
Partecipare alle EGMO, però, non significa soltanto allenarsi in vista di future o eventuali competizioni "miste", ma anche e soprattutto mettersi in gioco e confrontarsi con ragazze talentuose provenienti da tutto il mondo, nonché trovarsi in un ambiente nuovo e ispirante, in cui essere una ragazza appassionata di Matematica non è un fatto singolare ma un tratto comune.
Ma, è chiaro, la matematica non è l'unica protagonista delle EGMO: su sette giorni di durata, solo due mattinate sono dedicate alla competizione, il che lascia moltissimo spazio per attività svariate! Nel mio caso, partecipare ha significato trascorrere momenti memorabili con connazionali e non, quali esibirsi al karaoke portando un pubblico internazionale a conoscenza dei Modà, sbucciare carote per strada utilizzando particolari arnesi locali, constatare la presenza di Apfelkerngehäuse (torsolo di mela) nell'elenco delle parole più comunemente usate a Zurigo, o ancora vedere ragazze di tutto il mondo scatenarsi sulle note di hit italiane quali "Tutto molto interessante".
Ecco che allora le EGMO diventano un'occasione non solo di crescere accademicamente, ricevere un riconoscimento al proprio impegno e trovarsi in un contesto stimolante, ma anche di stringere amicizia con ragazze con cui si condivide la passione per la Matematica, divertirsi e svagarsi; tutti ingredienti che contribuiscono a rendere le EGMO un'esperienza a tutto tondo, da portare per sempre con sé.