English version below / Vai alla versione italiana
In September 2015, full of inexperience, I was taking part in my first camp for Maths Olympiad – a strange competition whose participants claimed they had fun with mathematics, whose beauty I had not yet discovered. There, one evening, chatting with my roommate, I found out about EGMO. EGMO? A competition just for girls? What does it actually involve? Ah, wow, you get to travel? How do you get into the team? Little by little, all these questions of mine found an answer and I started training hard, hoping to participate. It was aiming for this target, that I really got into Maths Olympiad and I qualified for EGMO 2016 and 2017 (and now 2018 - ed.). Now I try to set apart one hour and a half or two everyday to train, and then some, when I have the opportunity! It is funny that many ideas come up when I am thinking about problems away from my desk: on the bus, playing the guitar, while walking…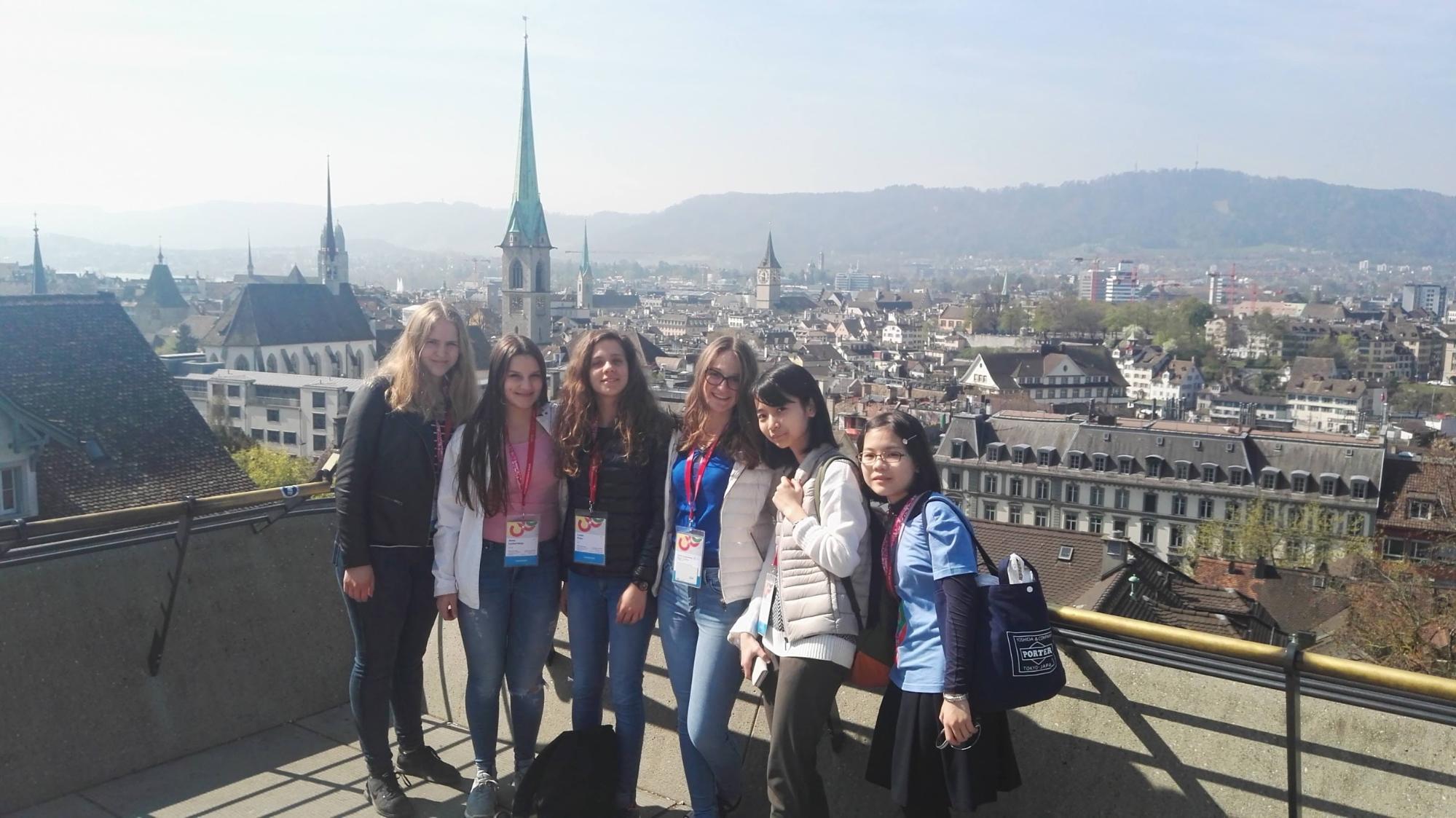 Linda and other contestants enjoying their free time during EGMO 2017
Surely good training is necessary, but I do not believe it to be the only important asset during a competition: I reckon calm to be the best ally you can have in those 9 hours, when you want to be your very best possible self. Unfortunately calm is not even remotely one of my strong suits and it happened quite often in my olympic past that I wasted too much time on a problem or to underperform on a test just because I could not stay serene. It happened to me one more time not so long ago in January during the team selection test for EGMO 2018: on day two, after precisely two hours of computations on a geometry problem, after putting down my pen and telling myself "great, it works!", I realised I had already solved the problem with a particularly clever remark I had made two hours earlier, while taking the synthetic approach. Needless to say, I spent the remaining hour mulling on the time I had lost, instead of focusing on the problem I had still to solve.
Putting my questionable time management skills aside, at EGMO I learned how to be my very best, to test myself, to react to disappointments; I broadened my views, getting in touch with different cultures, I travelled and, most importantly, I got to know some wonderful girls. Every moment helped my personal growth, from the long competition hours to free time in the afternoon and in the evening. And I had fun, of course, in particular during the excursion to the zoo in Zurich, where I focused completely, together with ITA2-2017 and ITA3-2017 (Maria Chiara Ricciuti and Francesca Rizzo, whom we have already met - ed.), into the making of a funny photobook, trying not to think about the announcement of the scores.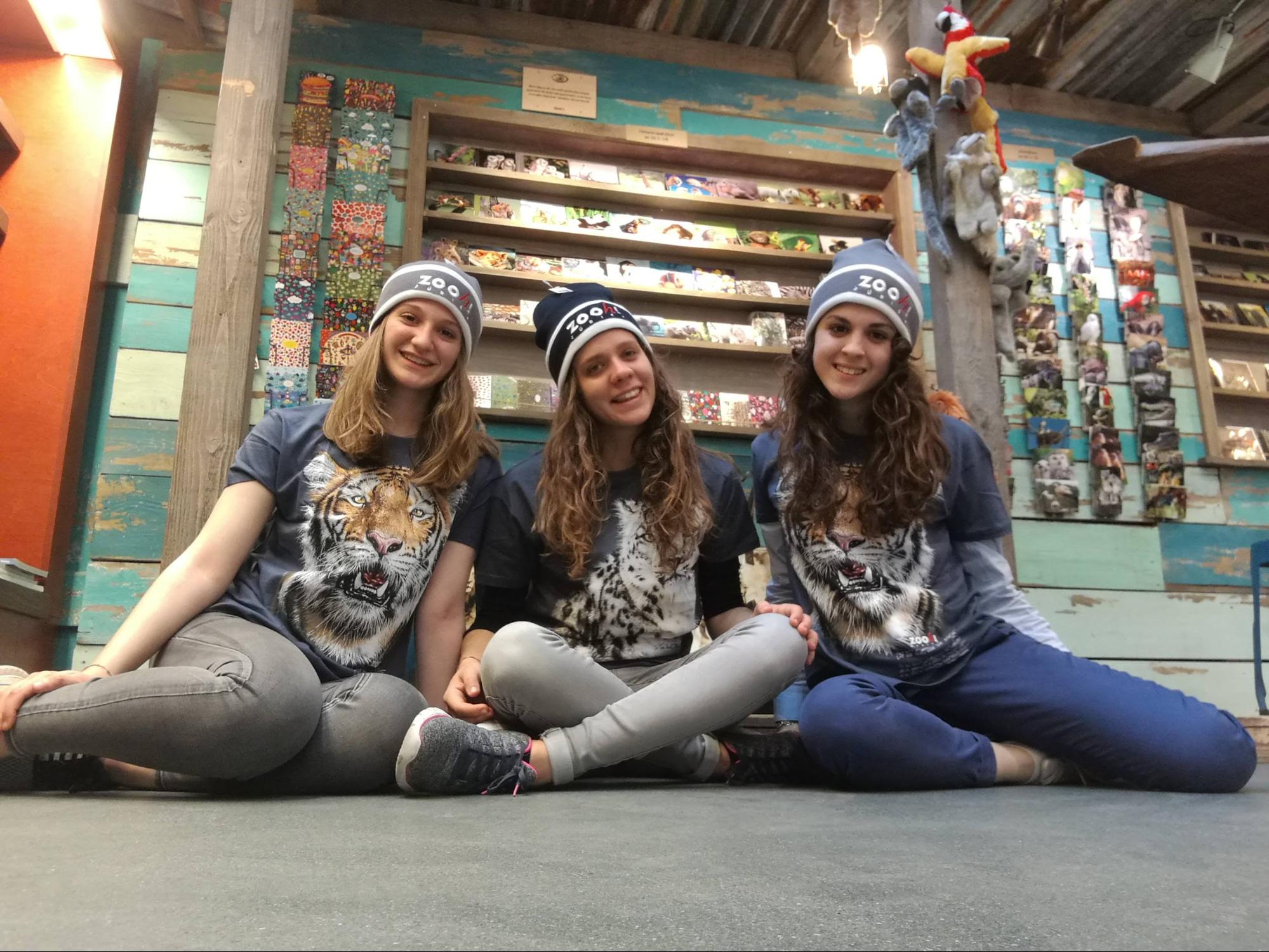 Linda with ITA2-2017 and ITA3-2017 at the zoo.
It is an extremely wonderful and unusual experience to chat in the hall of the hotel with a finnish girl, grab a coffee in Romania with girls from Belarus, learning how to say "I know where you live" in Romanian or talking about our respective traditions with japanese girls.
When I think about these small moments, the very air that one breathes at EGMO, I consider myself extremely lucky in having lived this all-round experience, something I will carry with me forever.
---

Versione italiana a seguire / Back to English
Nel settembre 2015, forte della mia inesperienza, partecipavo al mio primo stage per le Olimpiadi di Matematica - una strana competizione in cui i partecipanti dicevano di divertirsi facendo matematica, di cui non avevo ancora capito la bellezza. Lì, una sera, mentre parlavo con la mia compagna di stanza, ho saputo dell'esistenza delle EGMO. Le EGMO? Una competizione per sole ragazze? Cosa si fa là? Ah, wow, si viaggia? E come si fa ad essere selezionate? Piano piano tutte queste mie domande hanno avuto una loro risposta ed ho cominciato ad allenarmi seriamente perché speravo di parteciparvi. Cercando di raggiungere quest'obiettivo, mi sono appassionata realmente alle Olimpiadi e mi sono qualificata per le EGMO 2016 e 2017 (e 2018, NdR). Ora ritaglio ogni giorno sicuramente un'ora e mezza o due per allenarmi, e appena posso anche di più! Una cosa buffa è che spesso molte idee mi vengono quando penso ai problemi lontano dalla mia scrivania: in autobus, suonando la chitarra, durante una passeggiata…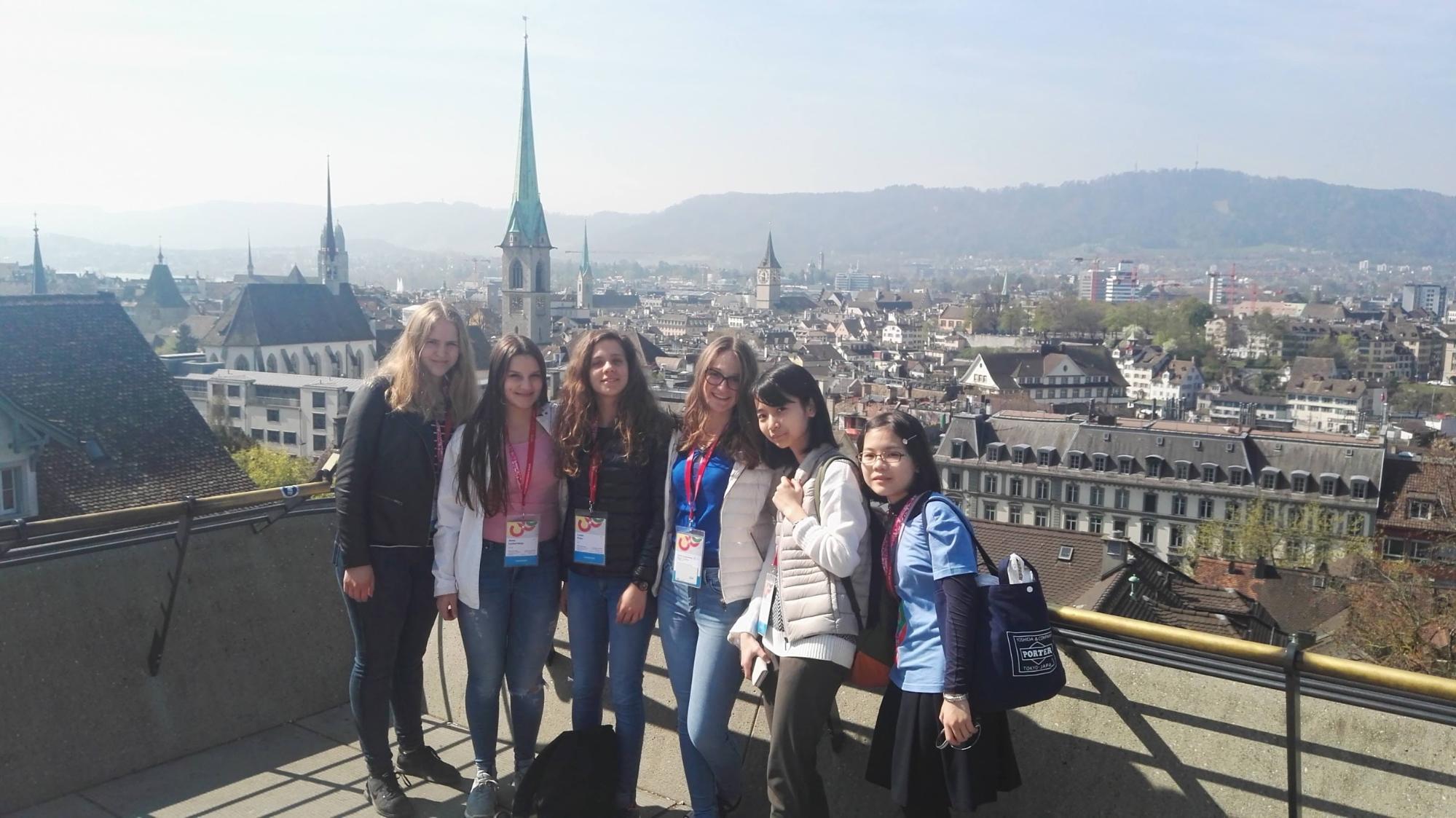 Linda e altre partecipanti si godono il tempo libero durante le EGMO 2017
Certamente un buon allenamento è indispensabile, ma non penso sia l'unico fattore che condiziona l'andamento di una gara: secondo me la calma in gara è il migliore alleato che uno possa avere in quelle 9 ore in cui vuole dare il meglio di sé. Purtroppo la tranquillità non è nemmeno lontanamente una mia dote, e mi è capitato molte volte nella mia carriera olimpica di perdere troppo tempo su un problema e/o di buttare via una gara per non aver mantenuto la calma. Recentemente mi è successo a gennaio al test di selezione per le EGMO 2018: al secondo giorno di gara, dopo 2 ore esatte di conti in un problema di geometria, dopo aver posato la penna dicendo "ottimo, torna!", mi sono accorta di averlo già risolto con un'osservazione particolarmente azzeccata fatta 2 ore prima in sintetica. Inutile dire che ho passato l'ora che mi rimaneva a pensare e ripensare al tempo perso invece di concentrarmi davvero sul problema che mi restava.
Lasciando da parte la mia discutibile gestione del tempo in gara, alle EGMO ho imparato a dare il meglio di me stessa, a mettermi alla prova, a reagire davanti a delle delusioni; ho allargato i miei orizzonti entrando in contatto con culture diverse dalla mia, ho viaggiato e soprattutto ho conosciuto delle ragazze davvero fantastiche. Dalle ore di gara al tempo libero pomeridiano e serale, ogni attimo mi ha aiutata a crescere dal punto di vista personale. E ovviamente non è mancato il divertimento, in particolare alla gita allo zoo di Zurigo dove con ITA2-2017 e ITA3-2017 (Maria Chiara Ricciuti e Francesca Rizzo, che abbiamo già incontrato N.d.R.) mi sono dedicata ad un buffo book fotografico per cercare di distrarmi dal pensiero della pubblicazione dei punteggi.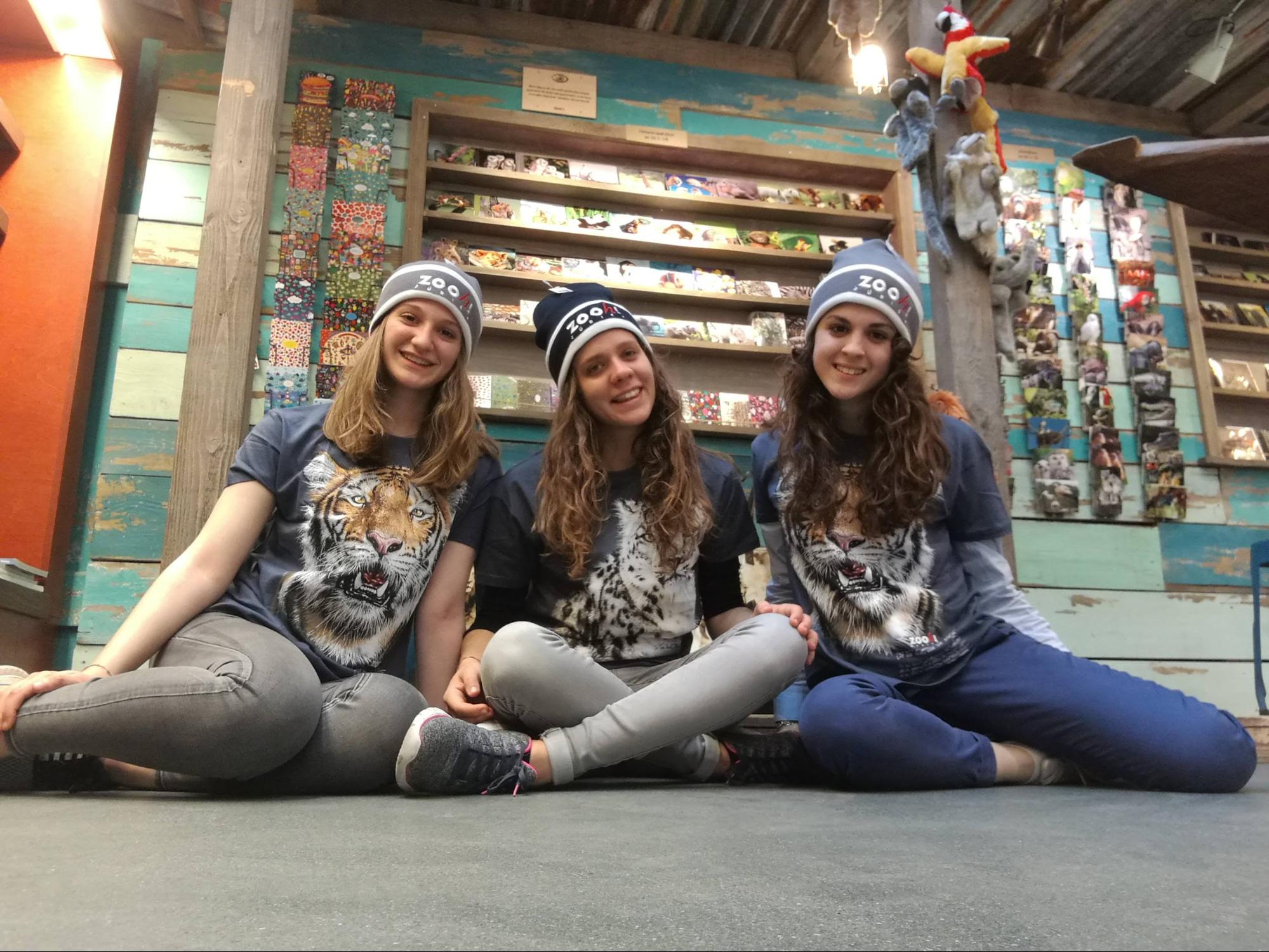 Linda con ITA2-2017 e ITA3-2017 allo zoo.
Poi è un'esperienza straordinariamente bella e insolita chiacchierare nella hall dell'albergo con una ragazza finlandese, prendersi un caffè in Romania con le ragazze bielorusse, imparare a dire "so dove abiti" in romeno o parlare delle rispettive tradizioni con le ragazze giapponesi.
Quando penso a questi piccoli momenti, all'aria che si respira alle EGMO, mi ritengo davvero fortunata ad aver vissuto un'esperienza a 360 gradi, un bagaglio che porterò con me per sempre.